Stephanie M. Maples
Click Name to View Bio's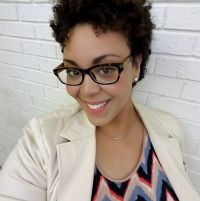 Stephanie Moneek Maples moved to Tupelo, MS in 1994, from Chicago Illinois. She graduated with honors from Shannon High School in 2002. With a full scholarship she attended Mississippi University for Women (MUW) in Columbus, MS graduating with a BA in the field of Psychology in 2006.
After a life changing occurrence that made her question her Identity and Purpose in Life, Stephanie fully submitted to the call on her life and enrolled in Bible College in 2012. She has since obtained a Bachelors' in Theology and currently she is finishing the Masters Program at Life Christian University in Tupelo, MS. Stephanie is a Radio Announcer for WKIU 95.1 FM-The Kingdom Broadcasting Network where her show Uneekly Living airs every Monday, Wednesday and Friday 8-10AM CST.
Stephanie loves people. She is dedicated to Leading and Developing people for Success through Kingdom Perspectives and Kingdom Principles.